Wie Fukushima den Energiemix Japans veränderte – How Fukushima Changed Japan's Energy Mix
9 Jahre danach. Der nukleare Zwischenfall vom 11. März 2011 in Fukushima in Japan sorgte monatelang für internationale Schlagzeilen, aber er veränderte auch die japanische Einstellung zur Kernenergie. Nach einem verheerenden Tsunami, der Japan am 11. März 2011 traf, fielen Notstromaggregate, die das Kernkraftwerk Fukushima kühlten, aus und verursachten insgesamt drei Kernschmelzen, Explosionen und die Freisetzung von radioaktivem Material in die umliegenden Gebiete.
Vor dem Vorfall waren die Japaner als unerschütterliche Befürworter der Kernenergie bekannt, trotz der früheren Atomkatastrophen in Three Mile Island (USA) oder Tschernobyl (Ukraine). Doch eine Kernschmelze auf ihrem eigenen Boden veränderte die Meinung vieler Bürger und brachte die Anti-Atomkraft-Bewegung in Gang.
Nach Massenprotesten kündigte die japanische Regierung unter dem damaligen Premierminister Yoshihiko Pläne an, Japan bis 2030 atomwaffenfrei zu machen und keinen der beschädigten Reaktoren wieder aufzubauen. Der neue Premierminister Shinzo Abe hat seither versucht, die Meinung der Nation zur Kernenergie zu ändern, indem er betonte, dass die Technologie tatsächlich kohlenstoffneutral und gut geeignet sei, die Emissionsziele zu erreichen.
Trotz der Wiederinbetriebnahme eines Reaktors im Kraftwerk Sendai in Südjapan im Jahr 2015 ist die Kernenergie aus der japanischen Stromerzeugung fast verschwunden. Im Jahr 2018 (letzte verfügbare Daten) stammten nur 6 Prozent der in Japan erzeugten Energie aus Kernkraftwerken. Kohle und Erdgas nahmen den größten Teil der Flaute auf, aber auch erneuerbare Quellen, vor allem Solarenergie, nahmen nach 2011 zu.
9 years after. The March 11, 2011, Fukushima nuclear incident in Japan made international headlines for months, but it also changed Japanese attitudes towards nuclear energy. After a devastating tsunami hit Japan on March 11, 2011, emergency generators cooling the Fukushima nuclear power plant gave out and caused a total of three nuclear meltdowns, explosions and the release of radioactive material into the surrounding areas.
Before the incident, the Japanese had been known as steadfast supporters of nuclear energy, despite previous nuclear catastrophes at Three Mile Island (USA) or Chernobyl (Ukraine). But a meltdown on their own soil changed the minds of many citizens and kicked the anti-nuclear power movement into gear.
After mass protests, the Japanese government under then Prime Minister Yoshihiko announced plans to make Japan nuclear free by 2030 and not to rebuild any of the damaged reactors. New Prime Minister Shinzo Abe has since tried to change the nation's mind about nuclear energy by highlighting that the technology is indeed carbon neutral and well suited to reach emission goals.
Despite one reactor restart at Sendai power plant in Southern Japan in 2015, nuclear energy has almost vanished from Japanese electricity generation. In 2018 (latest available), only 6 percent of energy generated in Japan came from nuclear power plants. Coal and natural gas picked up most of the slack, but renewable sources, mainly solar energy, also grew after 2011.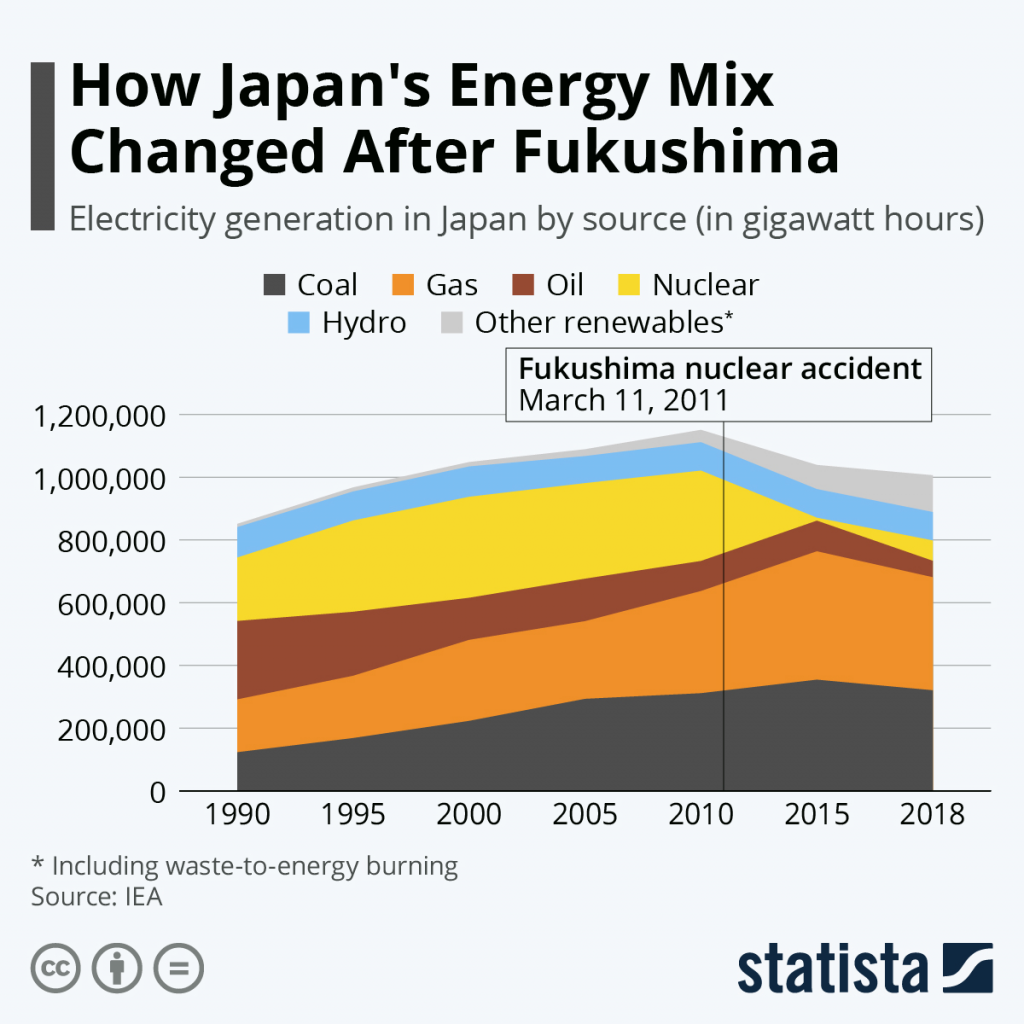 You will find more infographics at Statista
Mehr erfahren: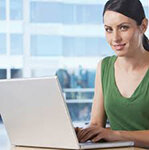 Benötigen Sie weitere Informationen? Brauchen Sie Hilfe? Lassen Sie uns wissen, wie wir helfen können. Wir freuen uns auf Ihre Nachricht.
Schreiben Sie uns, wir helfen Ihnen!