Die am schnellsten wachsenden Arbeitsplätze sind nicht immer die Bestbezahlten – Fastest Growing Jobs Aren't Always the Highest Paying
Zwei der fünf am schnellsten wachsenden Berufstitel in den USA bieten laut dem Bureau of Labor Statistics auch einen Medianlohn, der unter dem US-Jahresmedian liegt. Es wird erwartet, dass die Arbeitsplätze für Solar-Photovoltaik-Installateure in den nächsten zehn Jahren um 63 Prozent wachsen werden, fast zehnmal so schnell wie das Beschäftigungswachstum insgesamt. Der Medianlohn für die Arbeit an diesem Arbeitsplatz liegt derzeit rund 5.000 Dollar über dem Median.
Dieser Trend ändert sich für die Arbeit im Gesundheitswesen. Der am schnellsten wachsende Sektor ist die Gesundheitsbranche, wobei für Berufe im Gesundheitswesen ein Wachstum von 18,2 Prozent in den nächsten zehn Jahren prognostiziert wird. Die spezifischen Berufe, die das höchste Wachstum verzeichnen, sind die häusliche Krankenpflege und die persönliche Pflege, wobei die Wachstumsprognosen für beide Berufsbezeichnungen bei 37 bzw. 36 Prozent liegen. Obwohl beide Berufsbezeichnungen doppelt so hoch sind wie die Wachstumsaussichten ihrer Branche insgesamt, liegen beide Berufe deutlich unter dem nationalen Durchschnittsjahreslohn. Etwa fünfzig Prozent beider Berufsbezeichnungen verdienen weniger als 24.000 Dollar pro Jahr.
*Hinweis: In einer früheren Version dieser Geschichte wurde das jährliche Medianeinkommen für Familien anstelle des jährlichen Medianeinkommens für Einzelpersonen angegeben. Der Text und die Grafik spiegeln nun diese Änderung wider.
Two out of the top five fastest-growing job titles in the U.S. also provide a median pay below the U.S. annual median, according to the Bureau of Labor Statistics. Over the next decade, jobs for solar photovoltaic installers are expected to grow by 63 percent, nearly ten times the rate of the overall occupational employment growth. Median pay for work in this job stands around $5,000 above the median currently.
This trend changes for work in health service. The fastest growing sector is the healthcare industry, with healthcare support occupations projected to grow by 18.2 percent over the next decade. The specific professions posting the highest growth are home health aides and personal care aides, with growth forecasts for both job titles around 37 and 36 percent respectively. Despite both titles holding double the growth prospects of their wider industry, both jobs pay well below the national median annual wage. About fifty percent of both job titles makes less than $24,000 a year.
*Note: A previous version of this story cited the annual median income for families instead of the annual median income for individuals. The text and chart now reflect that change.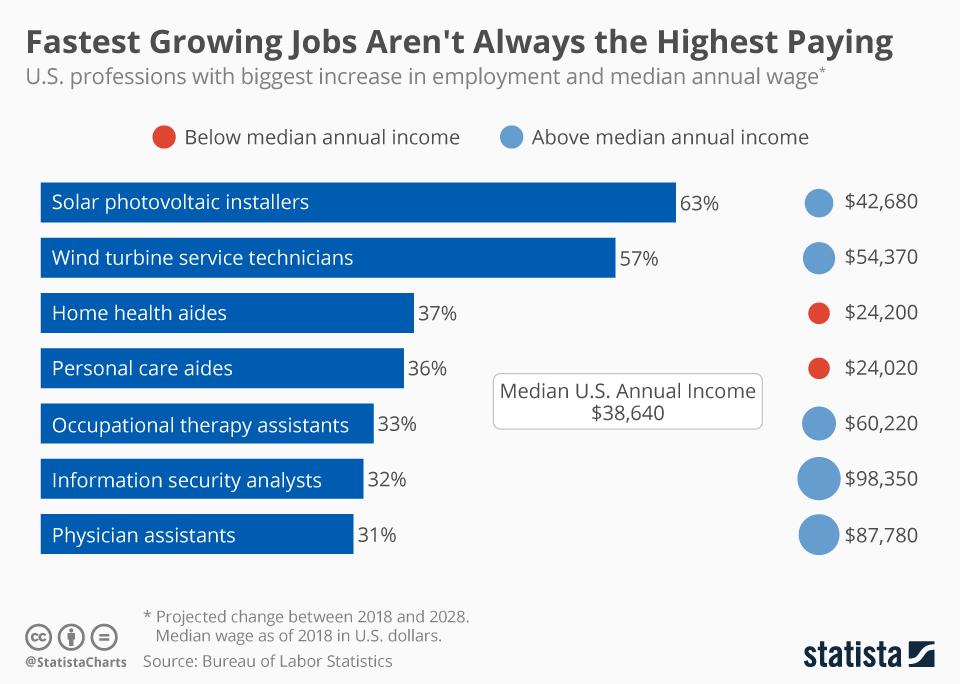 You will find more infographics at Statista
Mehr erfahren: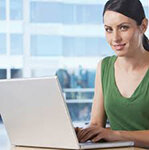 Benötigen Sie weitere Informationen? Brauchen Sie Hilfe? Lassen Sie uns wissen, wie wir helfen können. Wir freuen uns auf Ihre Nachricht.
Schreiben Sie uns, wir helfen Ihnen!