Urbanisierung in China – Urbanization in China
---
Deutsche Zwerge, chinesische Giganten – Ab Mitte der 80er Jahre setzte in China ein bis heute weiter anhaltender Trend zur Urbanisierung ein. Dies führte zu einem rasanten Wachstum der Städte und einer Vielzahl von Millionenstädten. Shanghai und Peking führen dabei die Liste der größten Städte der Volksrepublik deutlich an, mit rund 21 Millionen bzw. 19 Millionen Einwohnern. Dagegen sehen deutsche Großstädte mit gerade einmal vier (einstelligen) Millionenstädten geradezu zwergenhaft aus.
Der massive und vor allem räumlich konzentrierte Verstädterungsprozess brachte erhebliche Probleme mit sich: steigende Arbeitslosigkeit in den Städten, hohe Umweltbelastungen, drohender Verkehrsinfarkt durch zunehmende Motorisierung, Versorgungsengpässe mit sauberem Trinkwasser und Energie, große Einkommensunterschiede zwischen Stadt und Land. Zurückgehende Geburtenzahlen, wachsender Wohlstand und Lebenserwartung führten außerdem dazu, dass die chinesische Bevölkerung im Durchschnitt immer älter geworden ist.
German dwarfs, Chinese giants – From the mid-1980s onwards, a trend toward urbanization began in China that continues to this day. This led to a rapid growth of cities and a large number of megacities. Shanghai and Beijing clearly lead the list of the largest cities in the People's Republic, with around 21 million and 19 million inhabitants respectively. In contrast, German cities with just four (single-digit) million inhabitants look almost dwarfish.
The massive and, above all, spatially concentrated urbanization process brought with it considerable problems: rising unemployment in the cities, high environmental pollution, the threat of traffic gridlock due to increasing motorization, supply bottlenecks with clean drinking water and energy, and large income differences between city and countryside. Declining birth rates, growing prosperity and life expectancy have also led to the Chinese population growing older on average.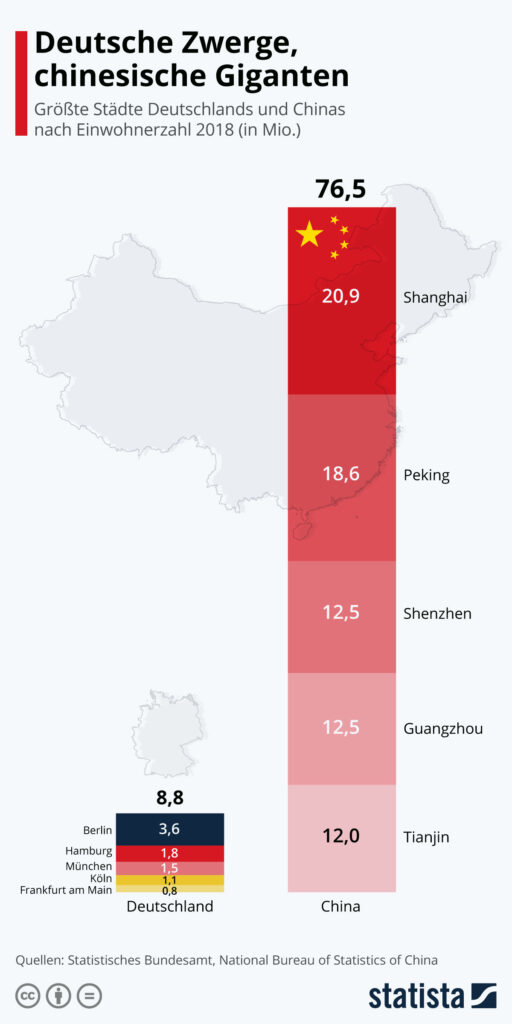 Mehr Infografiken finden Sie bei Statista