Der Handelskrieg zwischen den USA und China: Eine kurze Zusammenfassung – The U.S.-China Trade War: A Brief Recap
Vor 2 Tagen kündigte China mit Wirkung zum 1. Juni 25 Prozent Zölle auf US-Waren im Wert von 60 Milliarden Dollar an. Der Schritt kommt, nachdem Präsident Trump Ende letzter Woche 25 Prozent Abgaben auf 200 Milliarden Dollar chinesischer Waren erhoben hat. Die Handelsbeziehungen zwischen den beiden größten Volkswirtschaften der Welt scheinen sich letzte Woche nach viermonatigen Gesprächen, die nach dem G20-Gipfel in Buenos Aires begannen, zu verschlechtern.
Das Hin und Her begann im Januar letzten Jahres, als die USA Schutzzölle auf Waschmaschinen und Solarzellenimporte einführten. Weniger als einen Monat später unterzeichnete Präsident Trump Zölle auf importierten Stahl und Aluminium aus allen Nationen. Während sich dies an alle Nationen richtete, ist China der größte Stahlexporteur der Welt.
Bis Mitte Juni entwickelte sich der Tit-for-Tat-Handelsstreit weiter: Trump kündigte 25 Prozent Zölle auf 50 Milliarden Dollar chinesischer Waren an. China kündigte am selben Tag Zölle in dieser Höhe an. Beide Länder haben die Abgaben im Laufe des Sommers eingeführt. Ende September führte Trump einen 10-prozentigen Zoll auf 200 Milliarden Dollar chinesischer Waren ein, der bis Ende 2018 gilt, mit dem Potenzial, dass er bis zum Ende des Jahres auf 25 % steigen könnte. Präsident Xi reagierte mit 25 Prozent Zöllen auf Waren im Wert von 60 Milliarden Dollar. Auch wenn die Dinge nach dem G20-Gipfel hoffnungsvoll aussahen, ist eine Einigung noch nicht erzielt worden.
US-Aktien brachen am Montag ein, nachdem China die Nachricht von seinen Zöllen vom 1. Juni veröffentlicht hatte. Analysten prognostizieren einen volatileren Aktienmarkt, während die beiden Länder gegeneinander antreten.
2 days ago China announced 25 percent tariffs on U.S. goods worth $60 billion, effective June 1st. The move comes after President Trump placed 25 percent levies on $200 billion of Chinese goods late last week. Trade relations between the world's two biggest economies appeared to deteriorate last week after four months of talks, which began after the G20 Summit in Buenos Aires.
The back-and-forth started in January of last year when the U.S. rolled out safeguard tariffs on washing machines and solar cell imports. Less than a month later, President Trump signed tariffs on imported steel and aluminum from all nations. While that was a move directed at all nations, China is the world's largest steel exporter.
By mid-June, the tit-for-tat trade dispute developed further, with Trump announcing 25 percent tariffs on $50 billion of Chinese goods. China announced tariffs matching that amount that same day. Both countries rolled out the levies over the course of the summer. In late September, Trump instated a 10 percent tariff on $200 billion of Chinese goods effective till the end of 2018, with the potential for it to rise to 25% at the end of the year. President Xi responded with 25 percent tariffs on goods worth $60 billion. While things looked hopeful after the G20 Summit, a deal has still not been reached.
U.S. stocks plummeted Monday after China released news of its June 1st tariffs. Analysts predict a more volatile stock market while the two countries face-off.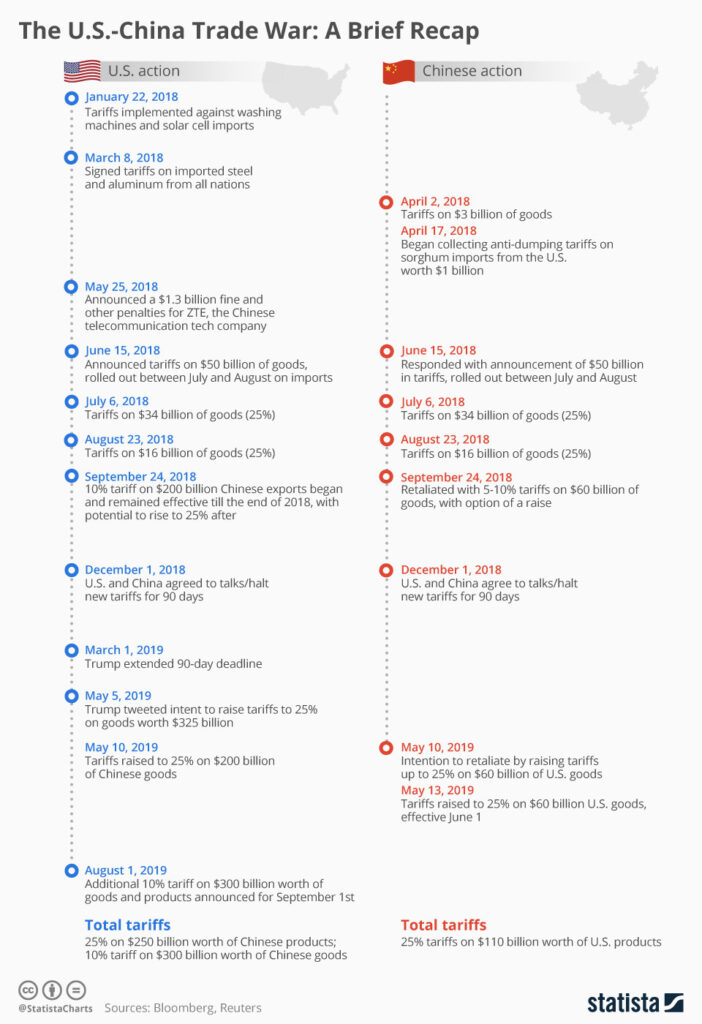 You will find more infographics at Statista
Mehr erfahren: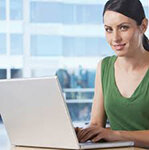 Benötigen Sie weitere Informationen? Brauchen Sie Hilfe? Lassen Sie uns wissen, wie wir helfen können. Wir freuen uns auf Ihre Nachricht.
Schreiben Sie uns, wir helfen Ihnen!