Das verdienen Paketboten – What parcel carriers deserve
Der Onlinehandel boomt, immer mehr Menschen bestellen im Netz. Dementsprechend viele Pakete sind unterwegs und m√ľssen an die Kunden ausgeliefert werden 'Äď doch die Paketboten profitieren wenig von der boomenden Auftragslage. Wie die Bundesregierung (Deutschland) auf eine kleine Anfrage angibt, sank der Verdienst der Paketzusteller in den vergangenen zehn Jahren. Bekam ein Bote in Vollzeit ohne Tarifbindung 2007 durchschnittlich 2.747 Euro, waren es 2017 nur noch 2.582 Euro. Bei den Kollegen mit Tarifbindung stieg der Verdienst zwar leicht, allerdings im Zehnjahresvergleich deutlich weniger als in der Gesamtwirtschaft.
The online trade is booming, more and more people are ordering online. Correspondingly many parcels are on the way and have to be delivered to the customers – but the parcel messengers benefit little from the booming order situation. As the federal government (Germany) states in response to a small request, the earnings of parcel delivery companies have fallen over the past ten years. In 2007, a full-time courier without a fixed rate received an average of 2,747 euros, whereas in 2017 it was only 2,582 euros. Colleagues with a collective bargaining agreement saw their earnings rise slightly, but by ten-year comparison, they were significantly lower than in the economy as a whole.
Mehr Infografiken finden Sie bei Statista
Mehr erfahren: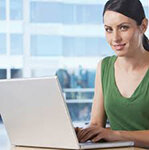 Benötigen Sie weitere Informationen? Brauchen Sie Hilfe? Lassen Sie uns wissen, wie wir helfen können. Wir freuen uns auf Ihre Nachricht.
Schreiben Sie uns, wir helfen Ihnen!